Astrology is the Science to Study Stars, their Movements, Relationship & their impact on Human Beings.
Students Of Desire Institute
The Founder of the University, a renowned astrologist, Welcome You to Desire Institute now Desire University Jalandhar, an Outstanding institution of higher learning in Astrology. It is an Honour to lead Such an institution Which Strives not only for the academic growth, but also moral and spiritual growth of its pupils. Here in this University We aim For the Holistic Development of Your Personality by Adopting Various Means of Imparting Education. The University Has Excellent Learning Environment That Keeps the Student Focused And Attached toward Their Respective Career And Life Goals.
I Have Great Pleasure in Conveying my Best Wishes To All Of You.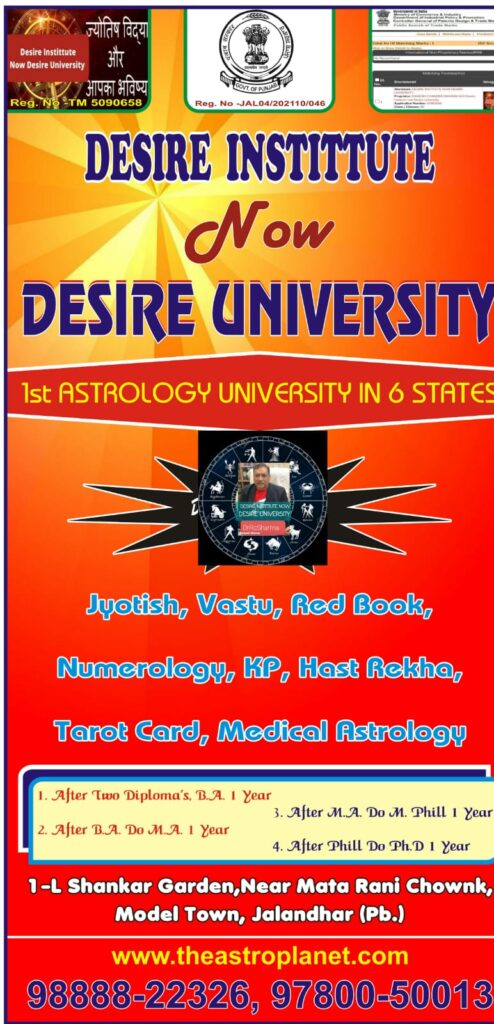 Today I am able to overcome the financial crisis that arises when facing big downfall in my business only Dr. R.C. Sharma helps me in that situation in good manner.
I am able to bring improvement in my relationship with the help of Dr. R.C. Sharma who understands my problem really well and suggest possible remedies to solve problems.
Today my lover is my life partner only because of Dr. R.C. Sharma because he has given me a possible solution of making my parents agree for marriage.